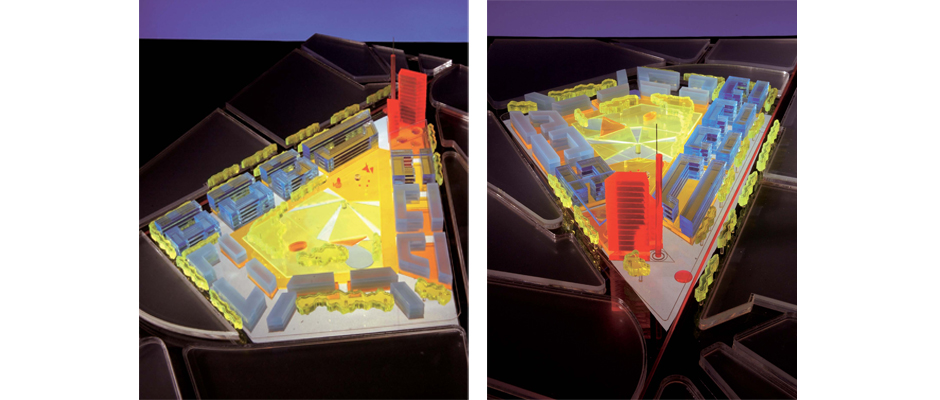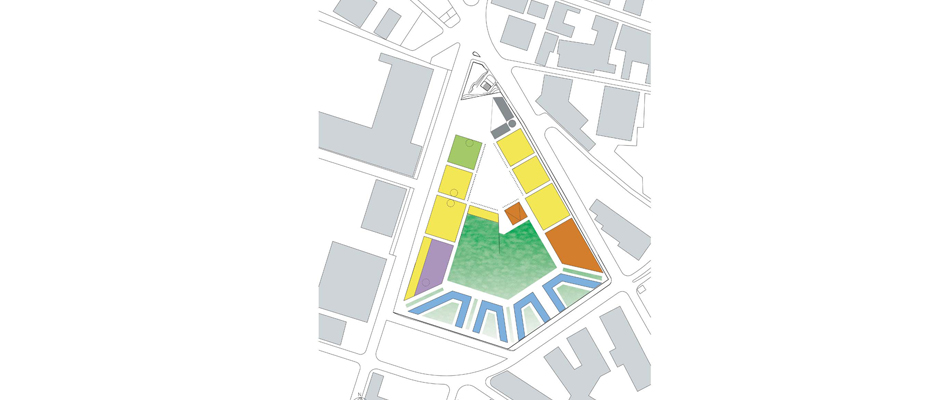 The masterplan identifies an urban area, part of a bigger zone, that tries to connects the historical city with the periphery districts characterized by a discontinuous and low-qualified urban fabric. The blueprint aims to define a new important access to the city that encourages a "sustainable city". To reach this target the project implies hotel and cultural structures which create a network with the historical centre's structures and participate at the connection of the two areas. Others important spot are settled in the area like high-quality public spaces for residents and visitors, functional mix rich and diversified characterized by different activities that ensure a 24 hours-life in the district, a new big park in the central area accessible by everyone and facilities like schools and a church. The infrastructural network has to be improved to connect the area with the city centre and the other main part of the city.
The design of the buildings try to creates defined street alignment settling the buildings on the perimeter of the area, offering a double slab super block of new generation. Inside evolves the park, divided in two different public spaces, northward a triangular shaped square surrounded by public facilities, southward the green park on which overlook dwellings and residential housing.
The main pedestrian access is in the north side close to the main public transportation system stop. Business and residential are settled in buildings with court. The semi-private court space is directly connected with the semi-public green area of the park. The settlement core hosts cultural facilities, accessible from the square and the park. The inner space facing the main squate hosts retail activities, while onto the park building gently slope down, transforming themselves into a green roofscape. The residential masses facing southward have decreased heights, more coherent with their own purposes and the already existing nearby building. Within the park the design host additional small scattered volumes.